Item Details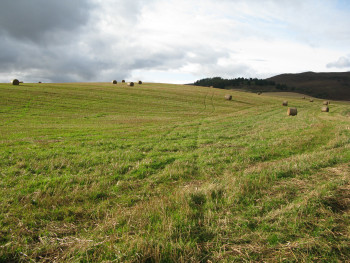 Work details
Title

Obney Parish Church (also known as Obneyis)

Work OCR text

SUMMARY DESCRIPTION

Nothing remains visible of the church or churchyard, the precise location of which is no longer certain.

 

HISTORICAL OUTLINE

The church and lands of Obney, which were entirely encompassed within the parish of Auchtergaven (see the separate entry on that parish), may have possessed parochial status at some stages in the medieval period. The church, however, if it had ever possessed it, had clearly lost independent parochial status before 1274, when at least some of the revenues from the lands of Obney formed the income of the prebendary of Obney in Dunkeld cathedral.(1) By the early fifteenth century, that prebend was held by the sub-dean of Dunkeld.(2) Ian Cowan suggested that the church may have pertained to the episcopal mensa along with Auchtergaven and that it was only the vicarage teinds which perhaps were annexed to the prebend of Obney, but more probably that these latter were, along with those of Auchtergaven, assigned to the prebend of Inchmagranachan.(3) It seems likely, therefore, that the prebend of Obney was, in common with other prebends in the church of Dunkeld, supported on rents drawn from assigned lands rather than from teinds of a specifc parish or parishes and the identification of Obney as a former parish church must be labelled as doubtful.

 

ARCHITECTURAL DESCRIPTION

The site of the church of Obney is no longer known with certainty. However, there is a possibility that it was at Chapel Head, a promontory above the steep south bank of the Garry Burn, about 300 metres north of Blairquhan and about 500 metres south-west of Nether Obney. There are records of two coins and the head of a glass image being found when the foundations of a building known as the Chapel were being cleared here in 1821. But nothing now survives above ground of any structures or enclosure.

 

NOTES

1. SHS Misc, vi, 49.

2. CPL, vii, 361; CSSR, i, 81.

3. Cowan, Parishes, 158.

 

BIBLIOGRAPHY

Calendar of entries in the Papal registers relating to Great Britain and Ireland; Papal letters, 1893-, ed. W.H. Bliss, London, vii, 361.

Calendar of Scottish Supplications to Rome 1418-22, 1934, ed. E.R. Lindsay and A.I. Cameron, (Scottish History Society) Edinburgh, 81.

Cowan, I.B., 1967, The parishes of medieval Scotland, (Scottish Record Society), Edinburgh, 158.

Dunlop, A.I., 1939, 'Bagimond's Roll, statement of the tenths of the kingdom of Scotland', Miscellany of the Scottish History Society, vi, 1-77, at 49.

Perth and Kinross Historic Environment Record Monument Full Report, Obney.

Work Additional Notes


Dedication: unknown
Diocese: Diocese of Dunkeld
Deanery: Deanery of Athole and Drumalbane
County: County of Perthshire
Council: Perth and Kinross Council
OS: c. NO 0309 3606 ?
Image details
Description

1. Obney, Chapel Head

Full Image Dimensions (WxH)

4000x3000 pixels

Accession Number

IDB-124289-000788

Collection

Corpus of Scottish medieval parish churches